Stumble this!
Hi and welcome back!
I am working my way through the  living room one small project at a time.
I have been loving this trend lately of using plumbing pipes for decor.  We have this huge wall that needed some love.  I posted a while back about how we filled half of it and now I'm working my way around.
I like to have blankets ready to use when watching movies, etc.,  but my coffee and end table don't allow for blanket storage. So I started thinking of ways to store the blankets to have them ready.  I saw THIS post on Seeking Lavender Lane and loved the idea of hanging the blankets.
No wrinkles and you can use one without messing up the whole stack, etc.  So, I thought I'd combine her idea with the industrial theme and viola!  It was actually super easy.  I went to Lowes and picked out the pipe I needed by laying it out and planning it there on the floor.
Here is a breakdown what I bought for this one, but you could use any size pipe you want!  I used 1/2 inch pipe.  I bought
4 floor flange pieces
4 elbows, 6 t's
4 pipes at at 18 inches
4 pipes at 12 inches
4 nipple fittings (very small connector pipes) at 3.5 inches
4 nipple fittings at 2 inches
Just a hint, the staff at Lowes will cut and thread pipe for you, so it is way cheaper to buy a big long pipe and have it cut than to buy the small pieces.
Next I came home and assembled.  It took some work, and my hands looked like this…
Once it was all put together, I sanded it and sprayed it with 3 coats of Oil Rubbed Bronze and 3 coats of enamel.  I didn't want that stuff on my pretty blankets!
Then I installed it using dry wall anchors and carefully painted all the screws black.  I had to do some touch ups on the wall, I hung it by myself and it was actually kind of heavy and awkward, so I probably should have had some help.  Anyway, it turned out great and we love it!  I'll have more of the room updates soon!
Check out the other projects in this room.
Thanks for stopping by!
April
Linked up at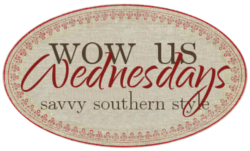 Let's connect and share the love 🙂